Fashion pony Pixel Pizzaz game
Follow us on Facebook and Youtube: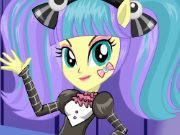 Description: Fashion pony Pixel Pizzaz
In girl pony of Equestria's great news! The city declared the week of high fashion. How to miss such event and not to go there? Moreover, Pixel Pizzaz volunteered to participate in the fashion show. That would be fun! Her girlfriends already can not wait when the Pixel Pizzaz appears in a beautiful dress on the catwalk and impress everyone with its beauty. After all, she knows how to dress. Isn't it?
How to play:
use the mouse to open the Cabinet doors beauty pony and choose what she appears on the catwalk. Maybe you choose her a few outfits?