Little Flying Pony game
Follow us on Facebook and Youtube: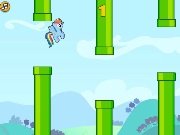 Description: Little Flying Pony
Funny game based on the flying bird in the game Flappy Bird. Your task is to help the pony to fly between the pipes not hitting them. It seems that the game is very simple, but it requires a certain skill. In the game you can play against the computer, or you can try the game for two. The second will probably be incredibly fun and exciting.
Control of the game:
click with the mouse or press the up arrow key to make pony swing wings and fly up. If you are going to play together with your friend, then one presses the space bar, and the second presses up-arrow key.
Little Flying Pony game walkthrough: