Bomb it 2 game
Follow us on Facebook and Youtube: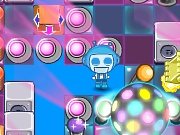 Description: Bomb it 2
Welcome to the game for the girls about the adventures bomb exploders. The heroes of the game are funny robot the exploders. They walking across the playing field and set bombs to open the way for themselves to the enemies and different useful bonuses. Girls, you need to help these little robots.
How to play the game "Bomb exploder":
Destroy all enemies and collect as many bonuses as you can, by setting the bombs on the playing field. You can play alone or with your friends. You can change the controlling keys, but by default, the game is controlled with the arrow keys to move and space to set bombs.