Bomb it 8 mission game
Follow us on Facebook and Youtube: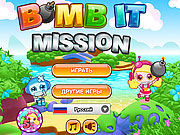 Description: Bomb it 8 mission
A fun and beautiful game Bomb it 8, the mission will not let you get bored. Right here you have as many as 3 opponents that want to win the game. They put bombs, collect bonuses and coins to get maximum points. But you also don't want to just give up. Right? So quickly choose your robot and start to do everything to reach the finish line first, and your robot opponents were defeated!
How to play:
in this game you have to detonate bombs to complete missions, which can be read at the beginning of each level. And levels 16 here! But if all levels are passed at two stars, you will get access to 17-th level, but if all 17 levels of progeny three stars, then you will have a great opportunity to play in the 18th level!