Frizzle Fraz Adventures 5 game
Follow us on Facebook and Youtube: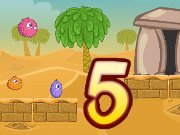 Description: Frizzle Fraz Adventures 5
The continuation of the acclaimed play about the adventures of the furry creatures - frizzle frazes. You will help big fizzle fraz to find the rest. On each level you need to reach the end and collect all the little creatures. You will meet a lot of traps, flying elephants, spikes, pits and smelly puddles.
How to play:
in this game you will save small frizzle frazes. Apart from them you can collect all the crystals to get the maximum number of stars for each level. Use the arrow keys to control your beautiful ball of fluff. You need to approach each little ball to change its color and jumped at you. Looking at each level of output and send in saved rislov.
Frizzle Fraz Adventures 5 game walkthrough: