Emily in a magical labyrinth game
Follow us on Facebook and Youtube: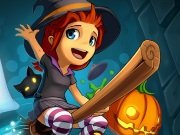 Description: Emily in a magical labyrinth
Curious girl Emily lost in the labyrinth on the Halloween eve. Help her to escape from it. Help Emily and her cat in this
fun adventure game
to go through the labyrinth. Push the arrow buttons, collect all the keys, and candies to open the door which leads out. A black magic cat who can talk will help you to pass the magical labyrinth.