Gato Johnson the cat game
Follow us on Facebook and Youtube: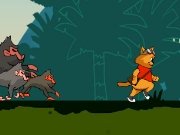 Description: Gato Johnson the cat
Somewhere in the distant islands in the jungle the gem is hidden. It is very large and valuable. They say it's worth a lot of money and it is very powerful ! Cat Gato has been looking for it for a long time and wants him to take it over.
Help the cat to escape from the fierce monkeys. Run and look at his feet. Collect as many coins and pass the greatest distance .
Controls of the game:
you press the spacebar or up arrow key to jump and perform the action. On your way there will be ravines, boxes and other barriers . Boxes will slow your motion, and the soil will stop you. Do not let the cat being caught by monkeys. Otherwise, the gem will be taken away from the cat.
Played: 31095. Added: 16-05-2014, 05:44.
Play other games from this developer:
gatogames.com
. Categories:
Adventure