Beaver on the log game
Follow us on Facebook and Youtube: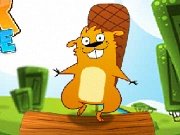 Description: Beaver on the log
Funny and cute beaver Dannywas born In Beaverville. From childhood he was afraid of water. He slept and saw playing with friends in the water. One day Lama told him: "Find me and I'll help you." Now you need to go on a log down the river to learn to not be afraid of water.
How to play:
Control the beaver with your mouse. Push the left button to make him jump. Keep an eye on an arrow. When it turns white, you can jump. Look after the beaver not letting himget tired and lean forward or backward. Otherwise he may fall into the water.
Played: 47520. Added: 9-02-2012, 18:37.. Categories:
Adventure