Santa Claus Mad racing game
Follow us on Facebook and Youtube: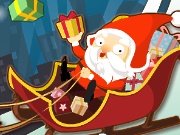 Description: Santa Claus Mad racing
Santa Clausis in a rush. He needs to go round so many countries to deliver presents to children on holiday. After all, they are waiting for them. And to do that Santa has to ride along the road full of cars and obstacles. Help our rider to reach the kids on time.
How to play:
Control the sled with the arrow keys. Avoid collisions. Push the down arrow key to slow down and avoid the collision. Follow the strip on the bottom. It shows the damage caused to the sled. A bar on the left shows when you can jump. If it is full, then you can press the spacebar to jump over a car or an obstacle.
And do not forget to collect bonuses on the road. It is acceleration, soaring, bonus time, and the sled repair.
Played: 39069. Added: 22-01-2012, 06:50.. Categories:
Adventure