Run Panda Run game
Follow us on Facebook and Youtube: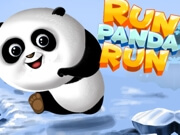 Description: Run Panda Run
A cool runner game about a panda that runs and jumps over various obstacles. This is a slide of stones, penguins, snowmen, and even bridges. Watch out for signs that appear from time to time. They will help you anticipate what lies ahead. Collect gold coins along the way and help the panda run the longest distance!
How to play:
Use the up arrow key, mouse click, or tap to make the panda jump over obstacles.