Cute Kitty Care game
Follow us on Facebook and Youtube: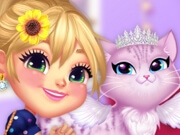 Description: Cute Kitty Care
Do you love pets for sure? Or maybe you have a cat or a dog? In any case, it will probably be interesting to know what it is like to look after a virtual pet. Although this kitty is not very different from a living one. She also loves to play, eat, and look beautiful. Today the kitty was especially playful and got hurt a little while playing with the butterfly. Therefore, she needs your help in removing all the dirt from her, cleaning the wounds, and treating them. After that, you can decorate her, choose cool outfits, and also choose a cool crown or other decoration for the cat's head. Then you can choose a dress and jewelry for your catwalk. It will be a great day off to relax with your beloved animal.