Jennifer Rose: nanny in love game
Follow us on Facebook and Youtube: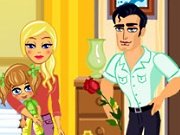 Description: Jennifer Rose: nanny in love
Jennifer Rose is a cute girl who works a babysitter. Taking care of children is very hard work, so she has no time for herself and her personal life. Sometimes her boyfriend, who also wants her attention comes to her work.
How to play the game "Jennifer Rose: nanny in love "
Play with your mouse. Look after the children being brought into the kindergarten. Feed them, put them to bed, give them toys. Do what kids ask and earn money to improve the kindergarten. As soon as the child wants something, it a picture with his wish appears over its head. When Jennifer's boyfriend comes, pay attention to him, and you will get a bonus. In our great online game for girls there are a lot of levels. After each level you can buy something in the store.
Played: 67869. Added: 2-08-2011, 03:15.. Categories:
Caring