Lovely Virtual Cat game
Follow us on Facebook and Youtube: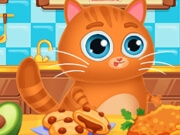 Description: Lovely Virtual Cat
This cool ginger cat lives in a big house and has many rooms. This is a kitchen, living room, bedroom, bathroom, and even a garderobe. It would seem what else a cat needs to live happily and not be sad. But he needs your company. With you, he can cook food, go to the store, play games, take selfies, swim, brush his teeth, sleep, choose new outfits for every day. You can earn coins in the game. To do this, there are games in the living room for which you can get them. In addition, you need to monitor the mood of the kitten. If your virtual pet is sad, then you need to think about how to entertain him. Also, monitor his coat condition. It somehow gets dirty quickly. To do this, take it to the bathroom, place it in the tub and start washing it. Then you can put him to bed, and after a while send the cat to the kitchen to feed him with all kinds of delicious food.
How to play
: In this game, you can take care of a red-haired, upright pet with beautiful big eyes. Use the tips in the game to feed him, cook with him, go to the store, play games with him and earn coins, put him to bed and change his outfits.