Aurora Cat Lady game
Follow us on Facebook and Youtube: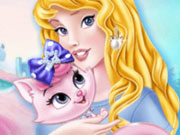 Description: Aurora Cat Lady
One day, Aurora was walking in the park and met a beautiful stray cat. Aurora always loved cats, and in this case, she did not think to shelter this stray animal at home. In this game "Aurora caring for a cat" you will know what the princess did when she brought her home. In the beginning, she decided to wash and trim her. Fortunately, it did not take long. Next, the princess began to choose a new outfit in the style of a big fan of cats. Then she decided to choose a beautiful dress and decoration for the cat. It seems to me or Aurora overdone it? Start playing and find out.
If you like the game, I recommend
fun my little pony games
. There you will meet many games with ponies, which you can choose outfits, hairstyles, and make-up.