Sweet honey for a bear game
Follow us on Facebook and Youtube: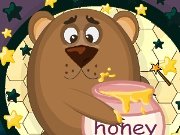 Description: Sweet honey for a bear
Bears like honey very much. It is sweet and very useful. This bear loves it too. To get the honey he has to solve complex problems. Help him to do this.
How to play:
Click on the bear to make him took of the ground in the bubble. Click again to make the bubble burst and the bear fell down. Use all sorts of tricks, push the buttons, pick stars. If you do not know how to pass the current level, then click the "Cheats". If you want to start the level again, then click "Restart."