Microsoft Jigsaw game
Follow us on Facebook and Youtube: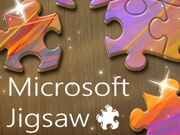 Description: Microsoft Jigsaw
The famous Microsoft jigsaw puzzle game, which you can now play directly in your browser online! Come into this game every day and you will receive three new puzzles with different pictures. Then choose the difficulty level, which divide the picture into 24, 54 and 96 parts. Now use your mouse or finger to drag parts of the picture to the desired location and get a complete picture. The game has the ability to look at the finished picture and get a hint. You can also change the background of the puzzle or select the music that plays during the game.
In addition, there are options to re-shuffle the puzzle, zoom in or out, and the ability to turn off any sounds during the game.