Movie soccer 2015 game
Follow us on Facebook and Youtube: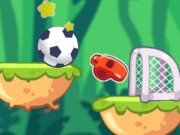 Description: Movie soccer 2015
Cool game about a monkey who needs to score the ball into the goal using all sorts of mechanisms and tricks. You probably already saw the first version of the game. It can be found
here
. In the new version of the game offers new levels and exciting music. The game is very addictive and want to play from beginning to end. I went through all 40 levels in one hour. And you?
How to play:
in this game you will help the monkey to score the ball into the goal. Use the clues in the game so that the ball began to move towards the gate. In addition you will be supporting the objects and devices. This is the portal in which the ball is moved to another location. The fan blows on the ball and makes it move away in. Use the explosives to create a blast wave and throw the ball to the gate.
Played: 36657. Added: 28-09-2015, 17:53.. Categories:
Logical
Movie soccer 2015 game walkthrough: