FGP Plumber game
Follow us on Facebook and Youtube: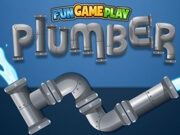 Description: FGP Plumber
Cool game Plumber where you will turn pipes and direct the movement of water so that it goes from one pipe and reaches another. This game has a classic mode and a timed mode. In classic, you just play your own fun by lining up pipes without a timer. And in the second mode, you only have a minute at a time. During this minute, the water will rise to the top. If you fail, the level will be lost. Decide quickly where to route the pipes to complete the level successfully!
Played: 8631. Added: 25-02-2021, 21:14.. Categories:
Logical