Fish for a penguin game
Follow us on Facebook and Youtube: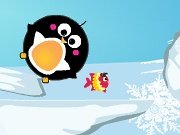 Description: Fish for a penguin
On each of the 23 levels you'll have to guess howcan the penguin get to fish. Throw and place icicles to push a penguin or a fish.
How to play:
you have very few pieces of ice, so think how and where to throw each to feed the penguin. Try to push a penguin or a fish. If you made a mistake, then click Reset. On each level the game will be more difficult. Icy chains, barrels and even levers appear there.
Played: 31599. Added: 17-02-2012, 14:17.. Categories:
Logical
Fish for a penguin game walkthrough: