Kris Mahjong game
Follow us on Facebook and Youtube: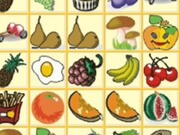 Description: Kris Mahjong
Mahjong Kris is very similar to all the familiar games of this genre. The difference here is that the cards depict food items. Fruits, vegetables, delicious sweets. In addition, you will see scrambled eggs, cherries, mushrooms, oranges, watermelons and even fried potatoes.
The game has sounds that can be turned off. To do this, click on the button in the upper right corner. The game has an initial time that you are given to find the first pair. For every pair of tiles, you get an additional 10 seconds. If you need to distract yourself from the game, then click on the "pause" button in the upper right corner.