Jelly Cubes game
Follow us on Facebook and Youtube: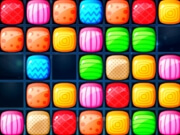 Description: Jelly Cubes
You have a field where you can drag jelly cubes and make lines of three or more of the same color from them. There is no time limit in this game. Play as much as you like and have fun. One condition is that there are a lot of fields at the beginning, but then the free space quickly ends. Therefore, use the space wisely and place the pieces in the most advantageous positions. Another feature of the game is that the figures can be rotated. This is very helpful and helps to build lines and earn points freeing up the previously occupied space.
How to play
: place jelly cubes on the field, making lines of the same color, three candies, or more. You can rotate the shapes by clicking on them with the mouse.
Played: 9882. Added: 13-03-2021, 00:13.. Categories:
Logical