Lisa: find the differences game
Follow us on Facebook and Youtube: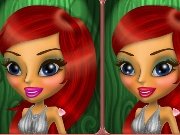 Description: Lisa: find the differences
Enjoy a nice game with great music and beautiful pictures with Lisa. You have to find differences on two pictures. You have only 60 seconds to do it. But there are only 10 differences! An excellent game for training of your attention and concentration.
How to play: Click on the image on the left to indicate the difference. If it is correct, the difference disappears and the picture becomes even more similar to the one on the right.
The number of remaining differences is written on the bottom right near the word " Differences". Watch the time. The indicator is located on the bottom left near the word " Time".