Horoscope Puzzle game
Follow us on Facebook and Youtube: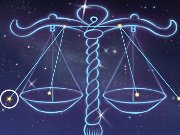 Description: Horoscope Puzzle
Fix your eyes on the sky full of stars with our great online game for girls. How many secrets stars are keeping. Every person has the constellation under which he or she wasborn, and under which the whole life is spent. Learn and remember the constellations.
How to play the horoscope puzzle:
The game has many levels. At each level, images of the constellations that you should memorize will be shown to you , and then you have to connect the stars with your mouse.With each level the game will become more complicated. Additionalstars, which may confuse you appear on the game screen, which will start to rotate. Try to remember everything very well.
Good luck with the game!
Played: 39609. Added: 19-08-2011, 03:31.. Categories:
Logical