Happy Easter Links game
Follow us on Facebook and Youtube: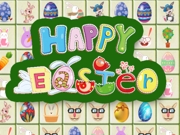 Description: Happy Easter Links
A cool game for all lovers of logic games like mahjong. The game is dedicated to the Easter theme. Here you will see background pictures and images on tiles on the theme of Easter. The main goal of the game is to remove two identical tiles from the field. They are removed from the field if they can be connected with a straight line, with one or two corners. In this game you will find as many as 27 levels. They all differ not only in the number of tiles, but also in their behavior. On each level, they can move in different directions when you remove similar tiles. This is a very cool effect. You need to carefully monitor where the tiles will move after your next move. If you complete the level ahead of schedule, you will receive a bonus.
The controls in the game are very simple. Just select with your finger or click with the mouse on the same tiles to remove them from the field. Return to the game and go through the rest of the levels. The game remembers your result, and the passed levels are saved. Therefore, you do not have to go through them again.