Spot The Differences game
Follow us on Facebook and Youtube: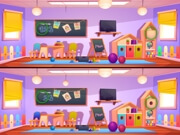 Description: Spot The Differences
I really love logic games and one of my favorite genres is games where you need to distinguish between pictures. They perfectly train attentiveness and the ability to notice the smallest details. In this game, you can practice these skills. There are 20 levels in the game in total, which means you will see 20 pairs of pictures on which you need to find the differences.
How to play
: use your mouse or finger to point to the places in the pictures where you can see the differences. There are usually 5 differences at each level. For each of them, you get a star.