Fashion of different countries: Hawaii game
Follow us on Facebook and Youtube: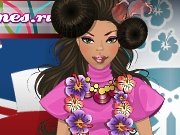 Description: Fashion of different countries: Hawaii
Welcome to sunny Hawaii, where the winter is an unfamiliar word. In this fashion game you can get acquainted with the culture of the Hawaiian islands, especially with the national Hawaiian costumes and hairstyles.
How to play the game "fashion of different countries":
Choose a nice outfit for a Hawaiian girl.To do thisclick with your mouse on Tools from the panel on the left. You can switch the hair, skirts, tops, dresses and try on shoes and the famous national Hawaiian beads of different colors. When you're finished playing, you can save the image on your computer, print or play the game again.