Barbie House Of Fashion game
Follow us on Facebook and Youtube: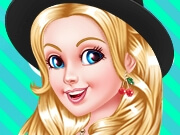 Description: Barbie House Of Fashion
Barbie is very talented in many areas. But one of her favorite things to do is to help other girls choose beautiful outfits and makeup. In this, she has no equal and for this, she is very much appreciated. But Barbie decided not to stop there, and she opens a Fashion House! This is a very cool event in her life, and she tries to keep everything at the highest level. Today she is preparing a presentation of her new models, and she needs to create four different outfits in four different styles. It's not as easy as it sounds because you need to know which outfits are suitable for each other in different categories. Let's help her deal with this issue and make great outfits.
How to play:
In this dress up game, you can help Barbie create four different outfits in different styles.