TikTok Famous game
Follow us on Facebook and Youtube: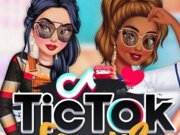 Description: TikTok Famous
Today TikTok is a very popular place to relax and find trendy and funny videos. It's so cool to be a TikTok star. It seems so easy to take and shoot a video that will make you a famous TikTok star. These four princesses decided to start their careers as TikTok stars. Camera, light, makeup, hair, outfit. So much is needed to make everything perfect! Therefore, these girls definitely need help. They will be very happy if you join them and become their personal advisor. Help them choose everything they need for their first video for a social network. To get started, tackle the girls' hairstyles. Do your best to make the girls look spectacular and bright.