Elsa Visits Marinette game
Follow us on Facebook and Youtube: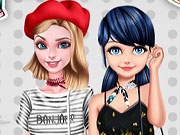 Description: Elsa Visits Marinette
In this glorious game dress up Elsa, you will meet another beautiful and attractive girl. This Marinette! By the way, but you're familiar with the name of Ladybug? Yes of course! Well, surely you know about her super cat. Now back to the game. In it, we will help Elsa to collect all the necessary things in order to see Marinette! For first we will go to the dressing room and choose there the best outfit for her. Then you will move to the café and choose for your great table, and then decorate it with delicious treats. You will then be able to choose three places on the map of Paris. After visiting these attractions you will have three shots that you can decorate and leave them on the memory itself. Girls, I suggest you to play
zizi games dress up
.