Elsa and Anna wash toys game
Follow us on Facebook and Youtube: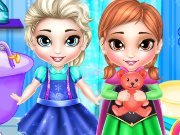 Description: Elsa and Anna wash toys
Elsa and Anna returned home after the next adventure, and saw with horror that their toys are dirty. They urgently need to wash their toys have become clean. Let us help restore the appearance of the girls toys and make them like new.
How to play:
in this game you can help Anna and Elsa to collect all the toys in their room and make them clean using a washing machine. First collect all the toys in the two basin. In one will toys, and other animals. Then visit the bathroom. Here you can put the toys in the washing machine and fill it in detergent. After washing toys and animals you will be able to put on the shelves of toys. So you make room to clean, and toys such as the new ones.
Played: 43110. Added: 13-09-2015, 02:32.
Play other games from this developer:
SueFun.com
. Categories:
Frozen Elsa