Rapunzel and Elsa PJ Party game
Follow us on Facebook and Youtube: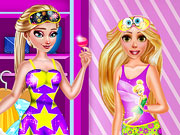 Description: Rapunzel and Elsa PJ Party
Rapunzel and Elsa Frozen heart old best friend. They spend a lot of time and enjoy the company of each other. They are very fond of dancing girls. Today they are going to go to a noisy party in honor of the beginning of spring. It will be noisy and fun, and then they want to have a sleepover. These parties deal with a best friend. But if you want to join you, they will be glad to see you visiting. It seems that Princess Elsa and Rapunzel have a surprise for you. You get to pick the outfits for this fun evening! This game Elsa and Rapunzel managed is quite simple. Enough to use the mouse to select outfits for each of the princesses and you'll do great company in outfits chosen by you!
If you like this game, I recommend looking through other
Disney games
on our website fungirlsgames.net.