Princesses Unicorn Cakes And Drinks game
Follow us on Facebook and Youtube: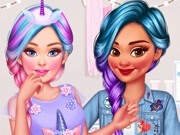 Description: Princesses Unicorn Cakes And Drinks
Cakes and unicorns! What could sound even more wonderful and fabulous? In this game you will find yourself in the company of cute girls who have decided to arrange a holiday for themselves. To begin with, they decided to create a cake in the shape of a unicorn. It can be a multi-layered colorful cake or a large one color. Then you can decorate it with all kinds of decorations. It can be a unicorn horn, delicious fruits, chocolate, candy, nuts and of course cream. When the cake was ready, the girls decided to make each other cool hairstyles. After all, looking wonderful so cool cheers you up! That's not all. The heroines of the game also offer a choice of unicorn-style outfits. Use colorful T-shirts, shorts, skirts, dresses, and jewelry to create a cool, fairy tale outfit. And after all these actions, of course, I want to eat. So the girls decided to create cool drinks that would go perfectly with their cakes they had made before. As you can see, the party plan is simply grand. Join them and enjoy the holiday atmosphere!