Alice In Wonderland game
Follow us on Facebook and Youtube: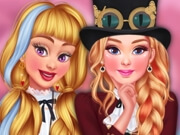 Description: Alice In Wonderland
I think you know who Alice is and have read a book about Wonderland. In this dress up game, you can visit there together with the princesses and choose outfits for each of them in the style of this wonderful story. Maybe it will be the style of Alice or the chess queen. Choose outfits for girls and enjoy this wonderful game that will remind you how tempting it is to be in this place.