Clothing for baseball game
Follow us on Facebook and Youtube: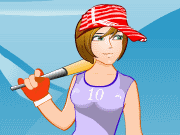 Description: Clothing for baseball
Choose the best and suitable clothing for our little girl, who decided to go in for sports, namely baseball. You see, she had a bit in hand. It remains to choose the right clothes for the sport.
Push on the top of the cup and you can choose something for the girls.
Played: 42894. Added: 6-03-2013, 08:46.. Categories:
Dress Up