Stylish Spectra dress up game
Follow us on Facebook and Youtube: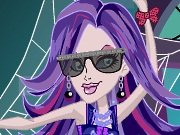 Description: Stylish Spectra dress up
Do you recognize Spectra? This is the ghost Spectra from Monster High. She hinted about her secret origin in her personal diary, but she didn't tell something certain about it. One can only guess where she came from and what her family was, but this girl has perfectly taken root in the Monster High! Try to choose an outfit in the ghost style for her in this Monster High dressing up game.
How to play:
Start the game and choose the elements of attire for Spectra. Click on the icons with images, and then try on cool clothes for the girl.