Lady Raven game
Follow us on Facebook and Youtube: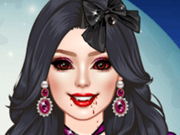 Description: Lady Raven
If you know and love Halloween, then you are probably familiar with the traditions and customs on this day. You can see on the street a lot of mummers who dress up in scary costumes and can often scare you a lot. On the other hand, this is still a fun holiday and people are looking forward to it. When you can still have fun dressing up as vampires, ghouls, zombies, and other scary characters. In addition to this day, there are funny parties where you can meet friends, dance and take many vivid photos.
In this game, you will meet Lady Crow. Who is she? Perhaps this is a real evil vampire who lives in the castle. But there is a version that this is just a local girl who skillfully applies makeup and selects outfits that seem very natural. Start playing and decide for yourself. Use the many buttons in the game to pick up makeup, hairstyle, dresses and jewelry for this young girl for Halloween.