Clawdeen and 13 wishes game
Follow us on Facebook and Youtube: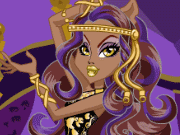 Description: Clawdeen and 13 wishes
School girls from Monster High met Gigi Grant. She is a genie and she can make wishes come true. Gigi offered to fulfill any desire of every one of the girls. Clawdeen wished to update her wardrobe and wished her younger sister Howleen never used Clawdeen's clothes.
Turn to your choosing clothes for a beauty Clawdeen, create her a few new outfits.