Clawdeen Wolf: Scaris style game
Follow us on Facebook and Youtube: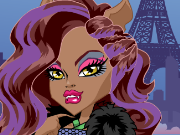 Description: Clawdeen Wolf: Scaris style
Clawdeen Wolf is going to the city Scaris. You already know that it is the center of fashion. It is home to the best and most sophisticated fashion mongers of the world. They prompt her what is better to wear and what to avoid.
How to play: Look what clothes does Clawdeen have and think up a new outfit Monster High student. Create the coolest way to make Scaris city residents pleasantly surprised by the taste of Clawdeen.