MLPEG Crystal Guardian Applejack dress up game
Follow us on Facebook and Youtube: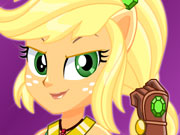 Description: MLPEG Crystal Guardian Applejack dress up
This pony lives on a farm near Ponyville with her family. She has a sister named Apple Bloom. Applejack is very hardworking and honest pony. She is not ashamed to dirty her hooves and easily takes on the hard work. In addition, she always tells the truth and her friends trust her and her every word. Therefore, her friends appreciate her as a best friend and treat her as much as she does to them. Therefore, they have a very strong friendship.
In this dress up game you will be able to pick up a new cool outfit for the pony from "My Little Pony" and try it on. Choose a new hairstyle, its color, new dress, jewelry, eye color and even facial expression. Create a very kind and brave pony.