Princess Tattoo Design game
Follow us on Facebook and Youtube: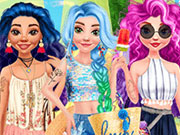 Description: Princess Tattoo Design
It turns out that Disney princesses can easily make friends with Harley Quinn. In this game you will see how easy it can be. Princesses miss their guys and so our ex-bad girl decided to cheer them up and is going to have a party. In this way, she thinks she is uplifting for her new friends. I think that in this dress up game the party with Harley Quinn and her friends Disney Princesses will be a lot of fun. See what outfits Harley has already chosen for herself. She suggests choosing the same for princesses. I think this party will be special and the princesses will learn to love themselves more like our new heroine of the game does.