My Spring Resolutions game
Follow us on Facebook and Youtube: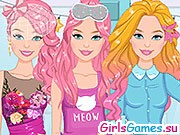 Description: My Spring Resolutions
This girl Ellie loves life very much and she makes her happy every day. What to say about the mood of fashionable women when spring comes? Ellie decided to update her wardrobe and choose new outfits for rest and sleep. For this, she needs your help. In this dress up game, you will see how many dresses, hairstyles, make-up and jewelry are in this girl's wardrobe. Now I understand why it is so difficult for her to choose the best outfit. Help her decide this and then proceed to the selection of a dress for sleep. Use the arrow buttons to navigate through Ally's huge wardrobe and pick the most beautiful and comfortable outfit.