Cabin Crew Makeover game
Follow us on Facebook and Youtube: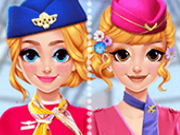 Description: Cabin Crew Makeover
These girls meet you at the entrance to the plane and help you fly comfortably to the desired point in the world. Many people look at them with admiration and they do it for good reason. After all, these girls are very slim, beautiful, smart and well-versed in their field. In this game, you can find out what to do and how flight attendants are preparing for the next flight. You need to go through four stages of preparing girls for a new flight. This is skincare, the choice of makeup, the selection of attire, and then you can help the girls choose the jewelry and the necessary accessories for a comfortable flight.
Enjoy the game and create beautiful images for these girls who make the flight enjoyable and help you achieve maximum comfort at this time.