Princesses Disney Masquerade game
Follow us on Facebook and Youtube: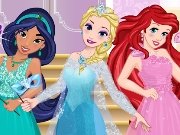 Description: Princesses Disney Masquerade
Today, a great mood among the Disney princesses. And all this by the fact that they are invited to a masquerade ball Disney! There will be fun and noisy. What Princess would refuse to go there? So our beautiful Princess are concerned about choosing a beautiful bright dresses, shoes and hairstyles. And most importantly, they need to find a festive mask.
How to play: use the mouse to help the Princess Ariel, Jasmine and Elsa to choose an outfit and mask for funny masquerade ball. Prinzzess select each in turn and then press the icons in the mirror to pick up girls with beautiful dresses.