Katie Candy Look game
Follow us on Facebook and Youtube: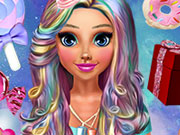 Description: Katie Candy Look
Katie loves candy. She is attracted by all the tasty and beautiful wrapping. If she eats one candy, she enjoys it all day. Of course, she understands that there are a lot of them to eat and that is why this girl is careful not to eat them more than one a day. This habit perfectly affects its shape and mood. In this game of dressing Candy style Katie you will be able to meet a wonderful girl who will love candy and wear bright dresses with pleasure. Thus, it looks bright and beautiful. Start the game with a selection of makeup for beauty. Then make your choice of dress and pick up a good manicure for a young fashionista.