Barbie Fringe Fashionista game
Follow us on Facebook and Youtube: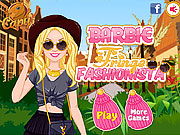 Description: Barbie Fringe Fashionista
Barbie loves everything new and fashionable. Recently she was reading a fashion magazine and found out that now is catching fringe. It is very like our fashionista Barbie and she decided as soon as possible to create a fashionable outfit using fringe. So she went to the beauty salon and began with choosing a new makeup, and then start to choose the dress according to current trends.
In this game dress up with Barbie you will be able to create her a new cool outfit use the mouse and your gorgeous fantasy.