Barbie on St. Patricks Day game
Follow us on Facebook and Youtube: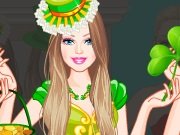 Description: Barbie on St. Patricks Day
Barbie loves the holidays. She knows that on March 17 St. Patrick's Day is celebrated in Ireland, and so she is going there tomorrow. Help her to choose an outfit for the holiday. It should be a green costume. By the way, did you know that even rivers are dyed in green this day.
This Barbie st patrick s day game, is controlled as well as all such dressing up games. It's enough to click by the mouse on the outfit and it will appear on the Barbie. The game has 4 different attire variants. You can do the same, create your own or change a little in existing variants.
Played: 62109. Added: 16-11-2014, 14:08.
Play other games from this developer:
egirlgames.net
. Categories:
Barbie