Barbie the nerds Princess game
Follow us on Facebook and Youtube: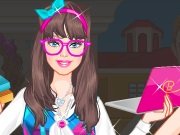 Description: Barbie the nerds Princess
Barbie is very smart girl. At school, she is the most intelligent. Such intelligent pupils are called nerds. She doesn't really like it, and she would like to look very nice and stylish. It would be better, if she becomes a nerds princess. Look how many interesting clothes does she have in her wardrobe. Mix them to get an interesting image of a smart girl. The classes are about to begin, and it is difficult to decide what to wear to class. You also can see 4 different school attires and offer one to Barbie.
Control the game with the mouse. Move the attires with the mouse to try clothes on. Try not to let her down and make her happy.
Played: 65196. Added: 9-01-2015, 19:07.
Play other games from this developer:
egirlgames.net
. Categories:
Barbie