Barbie the Island Princess game
Follow us on Facebook and Youtube: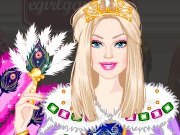 Description: Barbie the Island Princess
In this game Barbie became a princess of the island! There is very beautiful green grass, lots of beautiful flowers and crystal clear water! All this beauty pleases local inhabitants all year round and there is no winter. Is not it a paradise? This island is home to elves, magicians, wizards, dwarves, hobbits and other forest dwellers. The duties of Barbie are to support peace and order on the island and she handles great with this! Therefore, residents of the island made her a great gift. There are luxurious outfits in honor of her birthday. Look what they have offered her and create the best outfit.
Control the game with the mouse. Click the outfits and create the best for a fun celebration!
Played: 97911. Added: 12-09-2014, 06:43.
Play other games from this developer:
egirlgames.net
. Categories:
Barbie