Super Barbie dress up game
Follow us on Facebook and Youtube: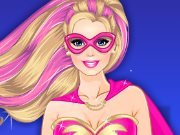 Description: Super Barbie dress up
Barbie turns into Super Barbie after the bite of a butterfly. Now she can fly and defeat any evil that threatens or all the good people. Now she needs a special outfit. After all, she's super Princess! What are super Princess? Of course it's a superhero costume. Start to play this Super Barbie dress up game and see what cool dress gathered in her wardrobe Barbie.
How to play:
in this dress you will be able to choose a new suit for Super girl. She only recently got superpowers, and therefore had not developed the style. The mouse transfer anything you want to put it on blonde and create the most amazing costume!