Barbie Lip Art Blog Post game
Follow us on Facebook and Youtube: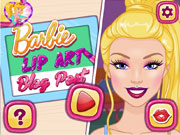 Description: Barbie Lip Art Blog Post
Barbie is quite popular and experienced fashionista to blogging about beauty and fashion. Recently she watched the beautiful patterns of the lips and decided to improve them. So today she decided to visit the beauty salon where you can create extraordinary beautiful design the lips. So let's see what patterns there are in the cabin and on the basis of these you can new.